Style 101
How to Measure Your Shirt Size:
If you're not sure what your shirt size is, measuring for your shirt size is very easy. All you need is a soft tape measure and someone to help you.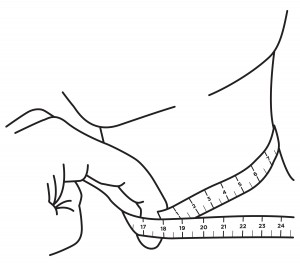 Your shirt size is dictated by your neck/collar size. Simply measure around your neck at the level of your Adam's apple and you should be able to comfortably fit two fingers between your neck and the measuring tape.
*Gentil Uomo only carries men's shirts made in Italy.
Below is a simple chart that will help you convert your North American shirt size to the Italian shirt size.
Shirt Collar
North American Size
14
141/2
15
151/2
153/4
16
161/2
17
171/2
18
Italian Size
36
37
38
39
40
41
42
43
44
45
How to Care for a Tie:
Avoid cologne on the tie, because it can leave permanent stains.
When not in use, you should untie your tie to prevent permanent wrinkles. Untie it by reversing the tie-tying steps to avoid damage.
Ties should be stored, hung or rolled carefully.
When traveling, your tie should be rolled up and stored in a tie case (or in a pair of socks).
By rolling up your tie with the narrow end first and storing it for a couple of days, it will remove wrinkles.
Never pull on loose threads. Always cut them carefully with a scissor.
Avoid using the same tie two days in a row, because ties need time to return to their normal shape.
How to Care for a Shirt:
Wash new dress shirts before you wear them. This will help you avoid allergies especially if you have sensitive skin. Doing so will also make the shirt softer and more comfortable to wear.
Routinely check your dress shirts to see if all buttons are secure and there are no loose threads.
Machine-wash your dress shirts using a gentle cycle with lukewarm water to preserve the fabric quality and color.
Never dry-clean your shirts. This is because chemicals used in dry cleaning fluids tend to destroy the fabric, and some cleaning agents are also very strong that they have the tendency to turn whites into yellow.
As much as possible, avoid starching your dress shirts. Starching while pressing causes cotton fibers to weaken.
To avoid stains due to deodorant or spray, apply deodorant and cologne and wait for them to dry before putting your shirt on.
To prevent permanent stains when accidents happen, quickly wash your dress shirt before the stain sets in.
To avoid color runs, separate your dress shirts before washing into three categories: whites, colors and darks. To get white shirts whiter, use bleach. For colours, use a diluted solution or special bleach for colours. As for the darks, avoid bleaching all together.
Check for stains and clean them before pressing. Heat from the iron might permanently set the stain into the fabric.
Using a steam iron is better when pressing your dress shirts. But if you don't have one, it's best to iron shirts while the fabric is still damp so that you do not scorch or damage the fabric.
When hanging your dress shirts, it is better to use wooden or plastic hangers with firm shoulders to keep the shape. Wire hangers tend to destroy the shape of your shirts.
How to Iron a Shirt:
1. IRON THE COLLAR
Start with the underside of the collar, working from the center out to the points to avoid creasing. Flip the shirt over, and repeat on the outside of the collar.
Always put your iron on the recommended setting for the shirt's material (cotton, linen, poly-blend). When in doubt, use the lowest setting.
2. IRON THE SHOULDERS
Secure one shoulder over the narrow end of the board and iron from the yoke (the point where the collar meets the arm and the body of the shirt) to the center of the back. Repeat on the other shoulder.
Spray hard-to-smooth wrinkles with a little water, then iron over the area again.
3. IRON THE CUFF AND SLEEVES
Lay one sleeve flat on the board with buttons or cufflink holes facing up. Iron the inside of the cuff first, then flip the sleeve over to iron the outside of the cuff. Next, iron the sleeve, beginning with the front side. Repeat with the other sleeve.
4. IRON THE FRONT AND BACK
Iron both front panels, then flip the shirt over and iron the back. Spray water for any stubborn wrinkles.